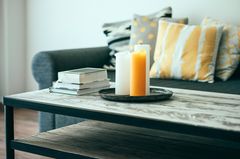 Can an apartment affect the mood?
Yes!
Your home should be an oasis of wellbeing, in which you can escape everyday stress.
If you avoid these mistakes, the bad mood will stay away.
Wilted flowers
Fresh flowers and plants not only affect the air in the room but also make the room appear more lively.
Simply a wonderful sight!
Studies even show that flowers in previously empty areas in your four walls reduce stress and make you happy.
But as soon as the flowers start to wilt, it's time to say goodbye!
Because not only the strong smell but also the sad sight lower your mood.
Better to dispose of quickly!
disarray
The disorder also affects your mood and therefore your personality.
An apartment in which a lot is lying around quickly becomes constricting and overwhelming.
Regular cleaning is therefore important.
It is also good to muck out old stuff every now and then.
Not only because you create space for something new, but because clearing out also means getting rid of ballast.
So the mood rises quickly.
Wrong wall color
Colors influence the mood - this can be seen in the daily choice of clothing.
But unlike your outfit, you cannot change your wall color constantly depending on your mood.
Therefore, one should not underestimate the effect of the colors in the apartment.
When choosing the right color, also consider the function of the rooms: For example, yellow and pink are excellent mood brighteners in the living room.
They have an invigorating and positive effect.
Blue and green are more suitable for the bedroom, as these colors do not seem too disturbing.
Red is generally difficult.
On the one hand, the color can become a decorative highlight, on the other hand, red is very dominant and can create an aggressive mood.
If you still do not want to do without the color of love, you can also choose it in a subdued form (brown-red, pink-red).
Uncomfortable light
Light has a huge impact on the mood in the room and thus on our mood.
It is supposed to create an atmosphere - but so that there is no oppressive mood, it must not be too dark.
If you only rely on a bright ceiling lamp, you create a station hall atmosphere rather than coziness.
Better: Different light sources from floor, table, and wall lights.
So you always have the right light ready for different situations.